< Back to results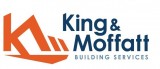 BIM360 Document Controller
King & Moffatt Building Services
Leitrim
Full Time

Mid-Senior Level
King and Moffatt has successfully delivered multiple large-scale projects in Ireland, the UK & multiple locations in Europe. This BIM360 Document Controller role is joining an experienced team in a very fast paced environment. We pride ourselves on being a full building services solutions provider.
This roles primary function is to develop, implement and manage our Autodesk BIM360 management system. Key aspects of this role would be coordinating, training and managing the roll out of this system.
DUTIES AND RESPONSIBILITIES
Working with K&M team on the creation of a BIM360 Document Management Policy
Setting up the BIM360 Portfolio including Projects, Files, Folders, Members, Workflows. etc.
Becoming a BIM360 Champion working with reseller to set up, develop and maintain the BIM360 system.
Resolving technical issues through research and troubleshooting including working with our Autodesk reseller.
Develop and deploy initial training program to staff and further ongoing training as and when required.
Attending virtual catchups with Autodesk and Reseller on Product updates, keep up to date with new features and pass on feature requests from within the business.
Managing the BIM360 Docs, Design, Coordination and Build Interfaces on a day-to-day basis alongside our design and construction teams.
Using the ISO19650 workflows on active and tendering projects.
Working with other integrated applications.
Ensure that the benefits of the software suite are realised in the business.
Ensure and oversee compliance with all EHSQ policies and procedures.
This list is not exhaustive or exclusive.
Requirements:
Relevant degree qualification in an engineering or construction discipline
Extensive BIM360 experience would be an advantage,
Previous involvement in the rollout of BIM360 would be ideal
2-3 years industry experience essential in the Architectural, Construction or Building Services industries.
Experience with Autodesk products (Revit) or other relevant products an advantage
Strong communication skills are essential
Power BI and Data Analytics is an advantage.
Document/ Design Management system experience is important.
ISO 19650 understanding is an advantage.
Ability to manage time effectively and work on your own initiative to meet project deadlines.