< Back to results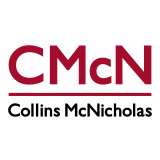 Digital Marketing Coordinator
Collins McNicholas Recruitment & HR Services Group
Sligo
30 Years Young And Still Learning
We've had a year to rebuild and rethink our hiring practices for a remote world, and even after 30 years we're still learning! Never did we think our entire team would move to a fully remote working experience. But we are (for now) and guess what…we're busier than ever! So busy that WE are hiring – a Digital Marketing Coordinator!
Even though this new world we're living and working in isn't what we had planned or envisaged, we've made some great memories along the way, from group HIIT training with Jess O'Driscoll, to Yoga with Izzy Hodder, and Boxercise with Pure Health, not forgetting our Virtual Cuppas across the offices organised by our Wellness Warriors, who are in fact, real-live Warriors! Last month each of our team members walked 100km to raise funds for our charity partner, The Irish Hospice Foundation. And we've lots more planned for the rest of the year!
It must be said, we miss our annual get-togethers. There's an almost 'family reunion' type feel to them…BUT…they WILL happen again, and we want YOU to be there when they do!
If this sounds like a company you would like to be part of, then contact our Marketing Manager, Hollie Hastings, for further information on the role.
Main Responsibilities:
Oversee company social media channels, monitor and present analytics associated with performance across LinkedIn, Facebook, Twitter & Instagram
Contribute to SEO and Google Ads marketing initiatives with keyword optimisation
Set up online events and webinars, registering participants and sending out event communications
Administration of monthly/quarterly customer satisfaction surveys and data reporting
General website upkeep and content creation
Create eye-catching graphics and visually compelling marketing material
Gather and present market insights and data requests for external stakeholders
Perform other duties as required and assigned by Marketing Manager
Requirements:
Degree level qualification in Business or Marketing
1years' experience working in a Marketing or Digital Marketing-related role is desirable
Solid understanding of digital advertising and an interest in online paid promotional tactics
Acute attention to detail and copywriting skills
Proficiency in Content Management Systems, Canva, Qualtrics, SurveyMonkey and email marketing platforms such as MailChimp/Campaign Monitor is an advantage
Understanding of platforms such as Google Ads, Search Console and Analytics is preferred
An interest in graphic design and video production would be beneficial
What we offer:
Competitive salary and attractive performance-based annual bonus
Pension, Healthcare, Life Assurance, Disability Benefit/Income continuance,
Maternity/Paternity Assistance
Employee Assistance Programme (EAP)
22 days Annual Leave increasing with service
Annual Leave Purchase Scheme
Clearly defined career path with extensive learning and development programme
Educational assistance
Customer Service Awards, Anniversary Awards (5 years, 10 years, 15 years..)
Bike to Work Scheme
Active wellness programme and Volunteer Hours
For a confidential discussion or to apply, please contact our Marketing Manager, Hollie Hastings.
hollie.hastings@collinsmcnicholas.ie
071-9142411