< Back to results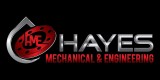 HR-Office Administrator
Hayes Mechanical & Engineering Ltd
Mayo
Full Time

Associate

Salary: DOE
Employer: Hayes Mechanical & Engineering
Role: Human Resources Office Administrator
We offer career development opportunities, work-life balance and best of all, we are a great bunch of people to work with!
We have an exciting opportunity available for an energetic HR/Office Administrator to join our team.
Reporting to the Director & General Manager, you will be responsible for maintaining project documentation, distributing communications to contractors, and clients. It is a fast-paced role which requires an experienced HR professional with efficiency, accuracy, and attention to detail. Working to strict deadlines, you will be an adept multi-tasker and problem solver.
Skills & experience required to excel in this position:
Schedule site inductions and managing the logistics.
Maintaining and updating Personnel records.
Record all Annual and Probationary Reviews.
Process new hires, leaver and expenses.
Create, manage lead and evaluate training programmes.
Deal with all outgoing post and courier requirements.
Flexible approach when tasks arise which are not specifically covered in this job description.
Manage incoming calls and organise office administration.
Assist with ISO9001 & EN1090 Audits and Management System.
Qualifications, and attributes:
Experience/knowledge of mechanical/construction industry is preferred but not essential.
High level of Microsoft Excel.
Sage
Willingness to work hard and ability to work on own initiative and attention to detail are essential.
Excellent secretarial and organisational skills.
Detail orientated, thorough, well organised and effectively manages time.
Good analytical and problem solving skills.
Excellent interpersonal and teamwork skills.
Ability to prioritise work and meet strict deadlines.
Rural location so must have own transport.