< Back to results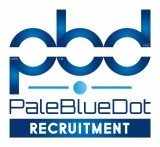 Manufacturing Engineer II
Pale Blue Dot® Recruitment
Galway
Full Time

On site

Mid-Senior Level
The Role
Our client, a leading medical device company based in Galway is looking for a Manufacturing Engineer II to join their team. The Manufacturing Engineer II will be responsible for providing daily technical support of production processes, products, equipment and materials. Driving continuously improvement of Manufacturing processes across site to achieve the strategic goals of Safety, Quality, Service and Cost.
Job Responsibilities include but are not limited to the following:
Solution focused, diagnosing and implementing permanent solutions to manufacturing issues in a structured problem-solving approach. Championing problem solving through appropriate
documentation and knowledge sharing.
Drive Continuous Improvement by leading the implementation of Lean/Six Sigma manufacturing principles.
Work within a highly regulated environment ensuring highest product quality is achieved through robust quality system processes such as GMP, NCR and CAPA etc.
Improve the production flow to achieve quality at source, rapid feedback from inspections.
Ensuring product specification requirements are met and inspection standards are met through concise standard work.
Lead teams in the execution of validation activities.
Analyse and Implement innovative improvements in operational performance through key Overall
Equipment Effectiveness (OEE) metrics Yield, Uptime and Performance. Increasing capability, capacity and stability of processes, product, equipment and materials.
Mechanical Design of jigs and fixtures to meet manufacturing requirements, optimise machine changeover time and improve maintenance.
Evaluates in conjunction with EHS new equipment/processes/chemicals for environmental impact.
Requirements
The successful candidate must hold an NFQ Level 8 in a Technical Discipline (Mechanical, Manufacturing, Mechatronics or Biomedical).
Project Management and Six Sigma qualifications will be a distinct advantage.
Problem Solving, Process Improvement, Data Analysis and Project Management experience is Highly Desirable.
Knowledge/experience of validation techniques & applications (IQ/OQ/PQ, TMVs etc.), associated regulatory requirements and statistical data analysis.
Demonstrate a motivated & flexible approach to work with results-oriented attitude. Excellent
interpersonal, communication, planning and organizational skills.
Ability to manage complex technical projects to strict deadlines through appropriate Project Management methods and tools (PMBOK methods).
Influential and motivated team member. Actively promotes and leads cross -functional teamwork environment. Provides technical guidance & mentorship of technicians.
Note: By applying for this position, you may also be considered by Pale Blue Dot® Recruitment for other or future related vacancies.