< Back to results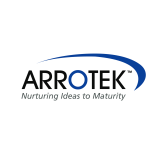 Marketing Manager
Arrotek Medical Ltd
Sligo
Full Time

Mid-Senior Level
Arrotek Medical is a medical device engineering company offering a range of development and manufacturing services from initial design assessment, through to the provision of sterile finished product for the European and US medical device market. We strive to provide employees the opportunity to work in a competitive, growing and dynamic environment, for career development and employee wellness through providing a competitive employee package.
For further information on Arrotek Medical, visit our website
We are currently recruiting for the position of Marketing Manager.
Responsibilities:
The responsibilities for this position will include the following:
Make our marketing activities efficient, dynamic and cost effective.
Work with management to develop effective marketing strategy.
Account-Based Marketing – working with sales to strategically market to new business accounts, as well as build advocacy within those accounts.
Track marketing performance – tuning analytics to measure and compare the effectiveness of varied marketing activities.
Own marketing data as a strategic asset – take responsibility for the data and the analysis that fuels our entire marketing machine.
Connect marketing to other functions – with process and tech links into sales, talent recruitment and customer care.
Other such duties as may be assigned from time to time by their Manager.
Person Specification:
Candidates likely to be called for interview will have most or all of the following:
Must have a relevant third level qualification.
5 years + in similar senior marketing role in similar industry.
Strong background in marketing operations and revenue marketing.
Extensive experience of working with CRM systems and marketing automation technologies.
Highly analytical outlook and data literacy – with a good understanding of marketing activity effectiveness (website performance, paid media, email campaigns etc.) and the ability to make actionable recommendations.
Excellent digital skills and understanding of marketing/online technologies.
Excellent communication skills and a collaborative work style across multiple teams.
Worked in a business-to-business environment, particularly working with a direct sales team.
Strong project management skills with attention to dates, deliverables and budgets.
Must be available to travel frequently and internationally.
Position Details
Permanent Contract
Full time position
Applications:
Interested applicants should submit their up-to-date CV and Cover Letter to recruitment@arrotek.com. All applications will be treated in strict confidence.
Arrotek Medical is an equal opportunities employer.