< Back to results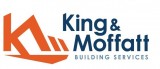 Mechanical Estimator
King & Moffatt Building Services
Leitrim
King and Moffatt has successfully delivered multiple large-scale projects in Ireland, the UK & multiple locations in Europe. We pride ourselves on being a full building services solutions provider. We are looking for a trainee Mechanical Estimator.
King and Moffatt has a vast portfolio of projects in the following sectors: industrial, commercial, pharmaceutical, food processing, logistics distribution centres.
Responsibilities
·        Read all tender documents before an estimate is started, and ensure any discrepancies between spec / drawings / tender summary are picked up.
·        Record and submit all RFI's in the correct documentation.
·        Prepare estimate in line with exact tender summary provided.
·        Review tender.
·        List any assumptions, clarifications, VE and conditions etc.
·        Attend and participate in Departmental Company & External Meetings
·        Keep up to date with industry standards.
·        Develop your skills in line with agreed training plan
·        Use Ireland and UK Terms and Conditions when submitting a tender.
·        Attend Tender Handover Meeting when the project is Won: The Estimator who will have the in-depth knowledge of costs and allowances within the project must have the following information available for the Tender Handover Meeting:
·              Tender Drawings
·              Tender Specifications
·              Tender Summary
·              Tender Calculations
·              Discuss how Estimator interpreted the project
·              Quotations from Suppliers and any discussions between Estimator & Supplier
·              Contract Documents
·              Comply with all EHSQ policies and procedures as required.
·     Copy all relevant Tender information to construction folder.
SKILLS AND QUALIFICATIONS
·        Knowledge of Mechanical installations an advantage but not essential.
·        Bachelor Degree Level in Engineering or similar Discipline.
·        Exceptional interpersonal skills.