< Back to results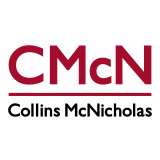 Occupational Psychology Consultant
Collins McNicholas Recruitment & HR Services Group
Galway
Full Time

Remote

Remote hybrid
We have an exciting opportunity for an Occupational / Organisational Psychology Consultant to join the Collins McNicholas HR Services team. The successful candidate will be responsible for the provision of assessment and development solutions, training and outplacement services to leading blue-chip multinational organisations throughout Ireland.
Awarded a 'Deloitte Best Managed Company' platinum status in 2020 and awarded the 'Great Places to Work' status for the 5th year running in 2019, we are proud of our achievements and owe this success to our committed teams nationwide. Our success is based on solid company values and an outstanding record for delivering exceptional customer service.
*This role will initially be a remote working position but will require intermittent travel within Ireland and office-based work, once restrictions are lifted.
Responsibilities:
Working as part of the HR Services team, you will provide high quality and timely assessment and recruitment services to Collins McNicholas' clients.
Identify and develop appropriate assessment solutions in response to client requirements – off-the-shelf and bespoke.
Coordinate assessment days or online assessment programmes.
Develop bespoke assessment reports (personality inventory, ability testing, competency-based etc).
Provide administrative support to team when required.
Assist in the design of internal and external training programmes.
Work alongside the HR Services team on outplacement support solutions.
Requirements:
Masters level qualification in Occupational Psychology / Organisational Psychology.
Minimum 1 – 2 years experience in a similar role or industry i.e. HR / Consultancy / Training.
Level A and Level B Certification in Occupational Testing.
Experience in building and maintaining client/customer relationships and/or working cross-functionally.
Knowledge of assessment and recruitment services.
Excellent communication and interpersonal skills.
Strong organisational and planning skills.
Very strong independent working skills, self-motivated, flexible.
Willingness to travel within Ireland when required.
For a confidential discussion and more information on the role please contact Emma Woods, HR Services Manager.
emma.woods@collinsmcnicholas.ie