< Back to results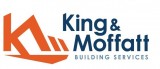 Project Manager Electrical
King & Moffatt Building Services
Leitrim
Full Time

Mid-Senior Level
We are looking for an experienced Electrical Project Manager required to join one of Ireland fastest growing M&E Building Services companies located with the headoffice located in Carrick on Shannon, Co Leitrim. King and Moffatt has successfully delivered multiple large scale Level two projects in Ireland, the UK & multiple locations in Europe. This Electrical Project Manager role is joining an experienced team in a very fast paced environment. This role will be based in Dublin and is a contract based on the length of the project.
We pride ourselves on being a full building services solutions provider. We have over 40 year tradition of excellence, hard work, and can-do attitude when providing building services to the construction industry. King and Moffatt has a vast portfolio of projects in Ireland, UK & Europe in the following sectors: industrial, commercial, pharmaceutical, food processing, logistics distribution centres.
DUTIES AND RESPONSIBILITIES
2.1 Attend project start up meetings.
2.2 Become familiar with all details and specifications of the project.
2.3 Input on tech submittals as required.
2.4 Raising and manage RFI's.
2.5 Manage labour tracker.
2.6 Progress Report to be maintained weekly.
2.7 Report and manage any changes/variations.
2.8 Resourcing -responsible for direct and specialist sub con
2.9 Liaison with main contractors and the client-based site team
2.10 Coordination and delivery of project plant and equipment
2.11 Ensure adequate materials are always available to complete the project.
2.12 Update program gains/losses to Con Manager weekly
2.13 Assisting CM in developing commission plan.
2.14 Implementing the commission plan on site.
2.15 Generate biweekly/monthly snag list and improvements.
2.16 Manage K&M handover process.
2.17 Maintaining K&M Document Management System.
2.18 Manage relevant external correspondence.
2.19 Project specific scheduling.
2.20 Meetings as required with Sub Contractors to ensure on time delivery.
2.21 Communicate/Coordinate with full project team.
2.22 Attend general site meetings and action points raised.
2.23 Communicate any innovative project specific works to Contracts Manager (R&D).
2.24 This list is not exhaustive or exclusive.
3 SKILLS AND QUALIFICATIONS
3.1 Trade or Engineering Background
3.2 5 years post qualification experience in Construction/Project Management
4 SUPERVISORY REQUIREMENTS AND DEPUTY
This role has Foremen, Site Supervisors, and Specialist Sub-Contractors reporting to them.
5 TRAVEL
Some travel may be required. Expectation is that this would not exceed 80% of total working time on average.