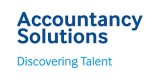 Accountancy Solutions
Discovering Talent
Accountancy Solutions is Ireland's leading Financial Recruitment Specialist. Established in 1990, we are synonymous in the marketplace for our ability to provide a premium level of service to both clients and candidates. We have built up a wealth of expertise both in the Irish and International recruitment markets and are the preferred supplier of accounting and finance staff to a gilt edged client base which includes some of the biggest brand names and organisations spanning Industry, Financial Services, Banking and Practice. Supplying these clients for over 30 years puts us in an unrivaled position to provide our candidates with the very best job opportunities and career advice. We deliver to clients a quality and superior recruitment solution tailored to their individual needs with an emphasis on identifying the very best talent in the market.
Our consultants primarily have an Accountancy or Human Resource background and generally handle positions within a certain segment of our business.
All of the above assignments are handled on both a permanent and contract basis – we have a specific Contracts Division who look after all contract and temporary recruitment assignments.
To see a list of our current assignments please visit www.accountancysolutions.ie
25-26 Merchants Quay, Dublin 8
Ph: 01-6797990
Open positions