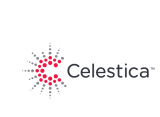 Celestica Ireland Limited
Unlocking the potential of the future
At Celestica, we enable the world's best brands. We build trusted relationships and solve complex technology challenges to help our customers realize greater value, potential and outcomes. We are a leader in high-reliability design, manufacturing and supply chain solutions that brings global expertise at every stage of product development – from the drawing board to full-scale production and after-market services. With talented teams across North America, Europe and Asia, we imagine, develop and deliver a better future with our customers.
LIVING OUR VALUES
At Celestica, we foster a motivated, high-integrity work environment based on a strong set of corporate Values. These Values empower our employees to provide you with superior service.
Teamwork 
We understand, learn from and work with each other to realize a greater future.
Ingenuity 
We set the standard for creativity, innovation and outcomes.
Confidence 
We seek solutions and proudly stand behind our work.
Care 
We are a trusted partner driven by accountability, integrity and respect.
Parkmore Business Park West, Ballybrit, Galway
Open positions