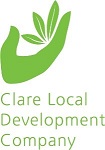 Clare Local Development Company
Supporting community and voluntary groups, social inclusion target groups, farm families and entrepreneurs
About CLDC
Clare Local Development Company (CLDC) is a community led local development organisation.
Established in 2009, it is led by a voluntary Board of Directors from community and voluntary groups, social partners, local government and state bodies.
CLDC has over 21 years' experience of delivering to communities on the ground, providing a wide range of local development services including training, work placements, grants and advice.
Our ethos?
CLDC's ethos is based on equality, being inclusive and community led. We believe in building the capacity of people and communities to address their own development needs and we work in partnership with other local bodies to deliver the best outcomes for the county.
What does CLDC deliver?
CLDC delivers a range of social inclusion, community, rural development and enterprise supports to communities and businesses on the ground in Co. Clare including:
LEADER
SICAP
Rural Social Scheme
Tús
Local Training Initiatives
Rural Walks Scheme
Community Employment Scheme
Unit 1, Westgate Business Park, Kilrush Road, Ennis, Co. Clare, V95 PXY3
Open positions