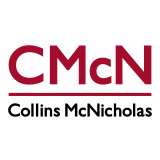 Collins McNicholas Recruitment & HR Services Group
Collins McNicholas is an Irish based Recruitment and HR Services Group that provides innovative talent solutions to organisations in Ireland and across Europe, as well as assistance for multinational companies looking to establish facilities in Ireland.
Founded in 1990, Collins McNicholas has a nationwide presence with offices in Dublin, Cork, Galway, Limerick, Sligo and Athlone. Our success is based on strong company values and a commitment to the consistent delivery of exceptional recruitment and HR services to clients and candidates.
We work across all levels of experience from entry-level to senior management, dealing in permanent, contract and temporary assignments. Our specialist sectors include Technical & Engineering, Science & Pharmaceutical, Medical Devices, Supply Chain & Logistics, Accounting & Finance, Administration, Customer Service & Languages, HR & Training, Information Technology, Manufacturing & Operations, Sales & Marketing, Senior Management & Executive.
If you are a talented professional, register with Collins McNicholas today and allow us to assist you on your career journey.
– Deloitte Ireland Best Managed Companies Award 2014, 2015, 2016, 2017, 2018 and 2019. In 2020, we were awarded a Platinum Member status.
– Great Place to Work Award 2015, 2016, 2017, 2018 and 2019.
Unit 27, Briarhill Business Park, Galway, H91 KE01.