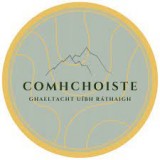 Comhchoiste Ghaeltacht Uíbh Ráthaigh
Ar scáth a chéile a mhairimid in Uíbh Ráthach
Welcome to Comhchoiste Ghaeltacht Uíbh Ráthaigh!
In 1992 a new cultural festival was established, Éigse na Brídeoige which inspired the community's respect to the language in Uíbh Ráthach and created links with other Gaeltacht communities and with Irish speakers in general. The festival committee became the basis for Comhchoiste Ghaeltacht Uíbh Ráthaigh, which was founded in April 1998 and was representative of all the communities of the South Kerry Gaeltacht.
Gaeltacht Uíbh Ráthaigh includes some of the following areas:
Baile an Sceilg – Ballinskelligs

An Gleann – The Glen

An Dromaid – Dromod

Gleann Mór & An Lóthar – Glenmore & Lohar

Cathair Dónall – Caherdaniel

The three main aims of the organisation are
1. Development of the Irish Language
Community Development for the benefit of the whole community
Services for the elderly and disadvantaged including accessible transport.
Comhchoiste Ghaeltacht Uíbh Tathigh,
Ceann Eich,
Cathair Saidhbhín,
Co Chiarraí,
V23 R894
Open positions