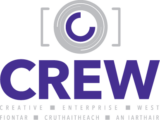 CREW
Creative Enterprise West
CREW is focused on the empowerment of Digital Creatives in the West of Ireland to create, develop & scale globally.
CREW "Creative Enterprise West" is a collaborative initiative led by Atlantic Technical University (ATU) Galway the Western Development Commission (WDC) and Ardán (formally the Galway Film Centre). CREW supports enterprises in areas such as design, film and TV production, animation, gaming, content development and AR/VR from its base at the ATU Galway campus at Cluain Mhuire, Galway.
CREW aims to develop an ecosystem and a suite of business and technical support services in the West for the digital creative sector. By bringing together a diverse range of skills, knowledge and resources, CREW will enable real collaboration to take place and accelerate the growth of the sector along the Western seaboard. CREW will focus on the Digital Creative Sector through the development of a Centre of Excellence providing co-working space, incubation and accelerator programmes, training, and outreach services to increase enterprise development and job growth in the West of Ireland contributing to sustainable regional economic and social development.
Wellpark Road
Galway
Open positions
We use cookies on our website to give you the most relevant experience by remembering your preferences and repeat visits. By clicking "Accept All", you consent to the use of ALL the cookies.
Manage consent
Privacy Overview
This website uses cookies to improve your experience while you navigate through the website. Out of these, the cookies that are categorized as necessary are stored on your browser as they are essential for the working of basic functionalities of the website. We also use third-party cookies that help us analyze and understand how you use this website. These cookies will be stored in your browser only with your consent. You also have the option to opt-out of these cookies. But opting out of some of these cookies may affect your browsing experience.