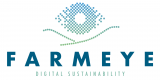 Farmeye
Farmeye is an award winning Irish Ag Tech company developing advanced technologies to capture, store and analyse land management data for pasture-based agriculture. We combine Agronomy, GPS, GIS, automation, remote sensing and deep learning to offer scalable and robust soil and land management systems to Agri-Corporates, State Bodies, Farm Advisors and Farmers. Our platform allows insights to be derived from soil health, farm carbon, biodiversity data.
Our vision is to become the most advanced technology platform for land and soil management data in pasture based agriculture. Our Purpose as a company is to improve the lives of farmers and the environment. 
We measure and analyse land and soil performance and environmental impacts, providing:​
Soil health insights and advice to farmers so they can use farm inputs more efficiently. This saves the farmer money while also increasing soil health, optimising groundwater quality and reducing C02 emissions.

Farm level environmental metrics on soil health, carbon sequestration and biodiversity. This allows food retailers to demonstrate the environmental credentials of their produce to consumers.

Compliance automation. This gives farmers real-time feedback on how to improve their production systems to meet the requirements of the customer or the regulatory agencies.
Onagh
Taughmacconnell
Roscommon
Open positions