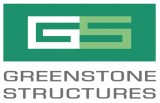 Greenstone Structures
Greenstone design, manufacture and build premium offsite structures for the construction industry in Ireland and the UK
Greenstone Structures is an offsite construction company that designs, manufactures, and installs light gauge steel frame structures for use in residential and commercial projects throughout Ireland and the UK.
We use innovative modern methods of construction and the latest technology in building information modelling software to supply premium offsite solutions to the construction industry.
We have a team of dedicated, highly skilled people passionate about driving the growth of our company and our role in leading the development of offsite construction in Ireland and the UK.
We have invested in state of the art manufacturing facility located at our 15 acre site in Killaderry, Ballyforan in North County Galway only 20 minutes from Athlone, it is ideally located to service the Irish domestic market and only 1.5 hours to Dublin port for UK exports.
Killaderry
Ballyforan
Ballinasloe
Co. Galway
Ireland
H53YK23