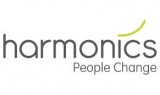 Harmonics People Change
Harmonics - Transforming Organisations & People

Harmonics help individuals, teams and organisations to future proof and align their workforce to become fit for purpose to deliver on changing business needs. With offices in Limerick, Dublin and Cork, we employ 14 people full time and bring together a nationwide network of over 30 coaches and consultants each with their own area of specialism. We provide a business-to-business service for all sectors including Financial Services, Pharma, MedTech, Telco's, Manufacturing, FMCG and Public Sector.
For further information, please contact Office: 061 336136 or visit our website https://www.harmonics.ie/