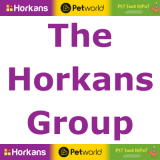 Horkans Group
The Horkan Group are a leading Irish chain of quality independent retail stores comprising of lifestyle garden centres & pet stores.
Our stores are located in, Galway, Mayo, Dublin, Sligo, Westmeath, Laois & Cork. Horkans is a family owned company with over 160 employees and is an equal opportunities employer. From small beginnings in the 1930s, we have grown our business to include three award-winning Garden & Lifestyle Centres, 9 Petworld stores, 3 Pet Food Depot stores and two online retail stores.
At Horkans we have very clear beliefs and values, handed down through the generations, which we try to live out daily. Our team is our most important asset and we foster an environment of team ethics and family values.
Supporting Irish and supporting local are very important to us and we work to develop ongoing relationships with suppliers and growers. We strive to give good value for money and listen to our customers who guide us in our decision making.
Visit www.horkans.ie – www.petworlddirect.ie – www.petfooddepot.ie
Open positions