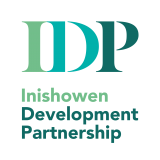 Inishowen Development Partnership
People, Place, Progress
Inishowen Development Partnership (IDP) is one of 49 Local Development Companies in the Republic of Ireland. It is a publicly funded,not-for profit company with charitable status, limited by guarantee.  The board is multisectoral across Statutory Agencies, Community and Voluntary Sector, Social Partners and Local Government. IDP covers an extraordinary amount of ground using a community led local development model ranging from job creation, education, skills, and training; the social economy and entrepreneurship; farm sustainability and rural development; to family support, social inclusion and health & wellbeing.  The organisation's underpinning principles aim to:
•                     Prioritise marginalised people within the most disadvantaged communities, targeting those furthest from access to education, training and employment.
•                     Promote active and constructive engagement between the State and communities about the development and enactment of public policy priorities at local level.
•                     Foster integrative and coordinated work in communities by bringing together people, groups, agencies, voluntary and statutory bodies to make a positive difference to endemic or temporary social problems and issues.
Learning from our shared achievements in growing a more vibrant, sustainable,
and inclusive future for all, IDP will build bridges of collaboration across public,
private, academic and community partners.
We deliver our objectives across five strands:
• Strand 1 – Learning and Development
• Strand 2 – Innovation and Opportunity
• Strand 3 – Resilience and Wellbeing
• Strand 4 – Environment and Sustainability
• Strand 5 – Leadership and Governance
Working across our community, we aim to enable, empower, and engage the
people of Inishowen to achieve their full potential. IDP's Goals are to
1. Use the process of community development to ensure participation and
representation from all sections of the community for collective action, social
change and addressing inequalities.
2. Develop locally appropriate and seamless supports and services in Inishowen
so that individuals, businesses, and communities can reach their full potential
3. Co-design programmes and initiatives using Local, Regional, National,
Cross Border, EU, and International best practice to maximise opportunity,
innovation, and impact
4. Build resilience and wellbeing for all within our community
5. Enable integrated approaches to supporting community-led local
development with social inclusion and sustainability at the core.
6. Develop the organisation with strong leadership and governance to facilitate
innovation and growth.
St Marys Rd, Buncrana, Inishowen, Co. Donegal
and
Pound Street, Carndonagh, Inishowen , Co. Donegal