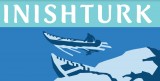 Inishturk Community Club CLG
The most beautiful of islands.
Inishturk Community Club CLG is a social enterprise and registered charity that operates services for the inhabitants of the small beautiful island of Inishturk.  The company is run by a voluntary board of trustees and staff are employed on the Community Development Programme and the Community Services Programme. Other staff are also employed on a temporary or seasonal basis to help operate Inishturk Community Club which comprises of community a community centre, restaurant, bar, shop and library.
Bellavaum
Inishturk Island
Co. Mayo
H91 N990
Open positions