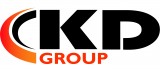 KD Group
Quality Care - Quality Engineering
Success Based on a Hardworking Team with a Collaborative Approach = Teamwork!
KD Group specialise in Mechanical Contracting, focused on the Irish market. Established in 2003, by Directors Kieran Staunton and David Staunton, KD Group has developed from a small family run business to a company that has grown in knowledge, expertise and size.
Our mission is to reach our maximum potential as a Mechanical Engineering company through hard, honest work and commitment to providing quality customer service. We are registered and certified by QAS International for OHSAS ISO 45001, ISO 9001 and ISO 14001. Every project undertaken by KD Group comes with the assurances that it will be completed to the highest international quality standards and it will be fully compliant with all safety, health, environmental and quality legislation.
Technology has been instrumental in the advancement of Mechanical Engineering. Together with our professional, expert personnel and continuous upgrading of our Building Information Modelling (BIM) department, this has proven invaluable to KD Group. We have implemented BIM into current projects and will continue to do so for the future. The use of BIM also facilitates the greater use of our off-site pre-fabrication facility.
Unit 12B, N5 Business Park, Castlebar, Co. Mayo. F23Y827
Open positions