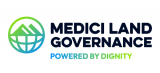 Medici Land Governance
Leaders in building quality technology products to help individuals secure property rights and governments manage land titling, administration and revenue generation.
Medici Land Governance was founded in 2018 as a public benefit corporation to put the power of property ownership and equity into the hands of individuals. We leverage blockchain and other technologies (such as machine learning, cryptographic and reporting systems, verifiable claims, etc.) support land governance, titling, and administration with a secure public record of land ownership. Land records stored on the blockchain make land ownership transparent, secure, verifiable, and recognizable by local and global economies. Blockchain applied to land improves lives, stimulates economies, and strengthens communities. MLG supports agencies in the digitization of their current records, engendering trust and security in data by diminishing human error and accidental damage to records.
MLG products include Systematic Land Titling, Land Administration, Land Valuation and Taxation, and Public Records on Blockchain. Using MLG products, governments can more effectively administer land records, enforce property rights, generate revenue, and support functioning property markets. Our team is comprised of leaders with deep experiences in building and delivering quality, resilient technology products and services.
Sligo Ireland / Midvale, UT, USA