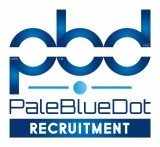 Pale Blue Dot® Recruitment
"The Resource for the MedTech Workforce"
Professionals You Can Trust
We are the recruitment professionals for the Medtech industry.
With our team of highly motivated and professionally trained recruiters, we assist clients with their staffing needs and provide qualified candidates with the opportunities they desire.
Typical positions we place include technicians, engineers, supervisors, project managers, value stream managers, Supplier QA and Logistics Professionals for both large corporations, SMEs and start-ups.
As well as professional placements, we also provide staffing solutions for clients who require general operatives for permanent placement or temporary assignment.
Pale Blue Dot® Recruitment is the Resource for the Medtech workforce!
Get in touch today!
Level Two, 32 Prospect Hill, Galway