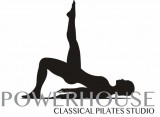 Powerhouse Pilates
Change happens through movement, and movement heals. Our mission is to help people to transform their health and wellbeing through the Pilates movement principles. Movement is medicine.
Powerhouse Pilates studio was opened in June 2021. After many years training and teaching Pilates part time I decided I wanted to open my own studio. I offer a wide range of classes from mat and equipment, to private 1:1/2:1. The group classes are small (max 4 or 6 depending on the class), and so you get lots of attention.
Classical Pilates is Pilates in the most authentic format, as Joseph Pilates intended the exercises to be carried out. There are over 500 exercises to experience on the mat and varied Pilates apparatus. Classical Pilates focuses on moving the entire body to improve the body evenly. In the Original Classical Pilates method, there is a sequence and method to the work, which has been designed to move the body through a whole range of movement. The Classical Pilates Method starts with Foundational Exercises to begin with and then as you build strength and control, the exercises become more complex. When practicing authentic Pilates, the method provides a variety of benefits to you and your body. The benefits include;
Coordination
Strength
Mobility
Proper Posture
Improved Flexibility
Injury Prevention
Relief From Joint Pain
And more importantly, integration of the Mind, Body & Spirit.
Powerhouse Classical Pilates Studio has a wide range of equipment including Mats, Reformers, Wunda Chair, Towers, Spine Correctors, and Foot Correctors.
Please see website for further information and Google Reviews to see what my clients have to say.
Main St
Ballisodare
Co Sligo
Open positions