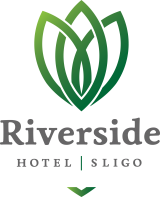 Riverside Hotel Sligo
⭐⭐⭐⭐⭐ Quality ⭐⭐⭐ Price
We are a progressive business that is continuously reviewing our methods to deliver a high-quality service at an affordable rate to our guests. To assist us in achieving these goals we are always looking to develop our team with upskilling and ongoing training both inhouse & outsourcing training.
We believe in Henry Ford's statement, Founder of the Ford Motor Company;
"The only thing worse than training your employees and having them leave is not training them and having them stay."
One of the bestsellers in Sligo! Located in the heart of Sligo town, Riverside Hotel offers spacious and stylish en-suite rooms with free WiFi. Sligo bus and train stations are within a 10-minute walk.
The property overlooks the Garavogue River and many rooms have stunning river views. The Mill Bar and Restaurant at Riverside Hotel serves full Irish breakfasts and there is an extensive lunch and dinner menu.
Riverside, Sligo, F91 X92V, Ireland
Open positions