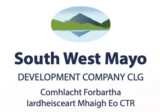 South West Mayo Development Company
South West Mayo Development Company (SWMDC) is a community-owned and volunteer-led Local Development Company (LDC), which was established to implement the pilot LEADER European Rural Development Programme in south west Mayo
Founded in 1991, South West Mayo Development Company (SWMDC) is a community-owned and volunteer-led Local Development Company (LDC), which was established to implement the pilot LEADER European Rural Development Programme in south west Mayo.
SWMDC has been a cornerstone of the local, rural, community development and social inclusion sectors in Mayo for three decades. We now employ 52 people, with an additional 450 people employed through social employment schemes.
Our geographical remit for some programmes now covers all of County Mayo and stretches into Roscommon and Galway. While our initial focus was on rural and community development, social inclusion and employment/activation are now significant areas of work in the company.
Through the work of SWMDC, communities, enterprises and people across Mayo and the wider western region have benefitted from training, capacity building, animation, investment and the development of projects. All our work is based on the fundamental principle that our interactions with people and communities should be empowering, enriching and energising.
South West Mayo Carey Walsh Building
Georges Street
Newport
Open positions