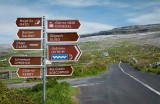 There's No Place Like Home
The Western Development Commission hosted the first online event 'There's no place like home' in December 2021.
The event took a closer look at the employment prospects across various sectors from Donegal to Kerry through our recently launched platform Westernjobs.ie as well as the key challenges, opportunities and supports available to those considering moving home from abroad.
Guest speakers included Dr. Eithne Ní Bhrádaigh from Vistamed in Leitrim, David Kenny VP of Overstock.com based in Sligo, Bernice Faherty Associate Director of HR, Aerogen in Galway and Ruth O'Donoghue HR Manager Harmac Medical Products in Roscommon.
The event also included a panel of experts from around the world join to discuss the key issues for those overseas, looking to move back. These include CEO of The Networking Institute Kingsley Aikins, Chairperson of the Asian County Board John Alan O'Sullivan, Denise Kidd from The London Irish Centre and Machine Learning Scientist John Savage who moved back to Sligo after living in Chicago and Dublin.
You can watch back the event below.
#MoreToLife