< Back to results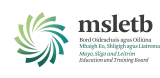 Deputy Principal, Corran College Sligo
Mayo, Sligo and Leitrim Education & Training Board
Sligo
Full Time

Salary: As per Department of Education & Skills Circular Letter
DEPUTY PRINCIPAL
Corran College, Sligo.
(Current Category VII)
REFERENCE NO:  DPCC21
MSLETB invites applications from suitably qualified persons for the post of Deputy Principal, Corran College, Sligo to take effect from 1st September 2021.  The school is a co-educational school with an enrolment of 73 on 30th September, 2020.
To qualify for appointment candidates must have:
A recognised post-primary teaching qualification
A minimum of 5 years' satisfactory teaching experience
Registration in accordance with Section 30 of the Teaching Council Act 2001
Application Forms for the above post can be downloaded from the following website at www.msletb.ie.
Mayo, Sligo and Leitrim Education and Training Board is an equal opportunities employer.  Canvassing will disqualify.  Shortlisting may apply.  Late applications will not be accepted.