< Back to results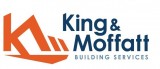 Project Engineer
King & Moffatt Building Services
Sligo
We are looking for a Project Engineer required to join one of Ireland fastest growing M&E Building Services companies located with the headoffice located in Carrick on Shannon, Co Leitrim.
We pride ourselves on being a full building services solutions provider. We have over 40 year tradition of excellence, hard work, and can-do attitude when providing building services to the construction industry. King and Moffatt has a vast portfolio of projects in Ireland, UK & Europe in the following sectors: industrial, commercial, pharmaceutical, food processing, logistics distribution centres.
DUTIES AND RESPONSIBILITIES
· Become familiar with all the project details, design and specifications.
· Collate technical submittals as detailed by the Contracts/Project Manager and manage this process.
· Collaborate with Contracts Manager, Project Manager, Design and QS on updating the progress report.
· Raising RFI's
· Keep RFI schedule up to date.
· Follow up on orders of long lead plant items.
· Ensure latest revisions of drawings are being worked on site.
· Redline drawings with as build information and issue to design.
· Monitor compliance of Sub Contractors.
· Attend site meetings.
· Assist QS in all variations and back up for changes and procurement.
· Manage relevant external correspondence.
· Ensuring compliance of all Building Regulations, Standards and Health & Safety Regulations.
· Comply with all EHSQ policies and procedures as required.
· Compile the Operation and Maintenance Manual, commissioning and handover process.
· Maintaining K&M Document Management System.
· This list is not exhaustive or exclusive.
SKILLS AND QUALIFICATIONS
· Bachelor Degree Level in Engineering or similar Discipline.
· Comprehensive understanding of tendering process.
· Working knowledge in MS Project, MS Office Suite
· Experience of Autocad beneficial.
· Willing to learn and adapt to different elements of a project.
SUPERVISORY REQUIREMENTS AND DEPUTY
This role has no direct reports.
TRAVEL
Some travel may be required. Expectation is that this would not exceed 20% of total working time on average.
Job Types: Full-time, Permanent
edit job
close job
view cost & performance
add candidate
Views: 0
Candidates: 0
Job Budget: €5.00 daily
Status: Open – pause
Created: 28-May
End date: 17-Jun
This job will be visible on Indeed shortly.