< Back to results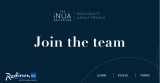 Supervisor Food & Beverage
We are currently recruiting for a Food & Beverage Supervisor to join our passionate and charismatic team. This is a busy role but for the right candidate will be a rewarding position within the Hotel.
Are you passionate about all things Food & Drink? If you Say Yes I Can! here at the Radisson Blu Hotel, Sligo we're looking for passionate hoteliers just like you! This is a great opportunity to join us and grow with the Radisson Blu, Sligo and the iNua Hotel Collection.
Establishing an empowered team, whilst not being afraid to roll up your own sleeves is important. You must be as keen as mustard where service is concerned, whilst ensuring back of house is in order – whether it be a plate full of numbers, setting a rota or laying the table for a successful team. Mis en place is everything!
Key Responsibilities:
Monitors Food & Drink service and team work and implements plans for improvement for department.
Utilises leadership skills and motivation to maximise team member productivity and satisfaction.
Monitors present and future trends, practices and systems in the hotel industry to determine and ensure that the Food & Drink department is competitive in the market place.
Ensures that all service signals are carried out as per the department standards of performance manual for Food & Beverage.
Ensures that all Food & Beverage patrons receive prompt, courteous and efficient service.
Is proficient in all Food & Beverage department procedures to be a resource when needed.
Monitors overall service and team work daily, and makes recommendations for improvement to the Bar and Restaurant Manager.
Review daily business and business forecasts to ensure efficient service delivery.
Checks that staff meets and exceed guest expectations by implementing continual training, and actively encouraging staff to provide a courteous, efficient and prompt service.
Requirements:
Proficient in all Food & Drink and Meeting & Events procedures to be a resource when needed
A proven track record in a similar role within a quality environment and to be able to demonstrate excellent standards and team member management
Commercially aware
Driven and ambitious to inspire the team to consistently deliver and exceed service standards
Clear thinker with excellent communication abilities
If you are not a 9-5'er and want to dine with us, say Yes I Can! as this might be just what you have been waiting for!
Staff Benefits include:
Discounted rates on food & accommodation.
Discounted rates in Radisson Hotels across the world.
Learning & Development Opportunities.
Staff meals provided whilst on duty.
Employee Recognition Awards.
Independent Employee Assistant Programme.
Free car parking.
This is a great opportunity for the right candidate to join us and grow with the Radisson Blu, Sligo and the iNua Hotel Collection.
Follow us on Facebook / LinkedIn for the latest career opportunities.#passionateaboutpeople # #learn #evolve #thrive