< Back to results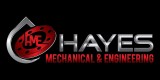 TIG/Pipe Welder
Hayes Mechanical & Engineering Ltd
Mayo
TIG/ Pipe Welder: Hayes Mechanical & Engineering are Hiring.
We are seeking an experienced TIG/MIG Pipe Welder to join our team in Co. Mayo. Responsibilities:
• Experienced TIG/MIG Welder required for on Site Stainless/Carbon Steel Pipe and Structural
• Using the Gas tungsten arc welding (TIG) process. Ensure your welding results in precise, seamless joints & is without splatter
• Comply with company Health and Safety policies and procedures • Make sure that your work is completed in a timely fashion and is of good quality.
• Experience with Sheet Metal an advantage • Work to high workmanship standards and maintain all quality checks. • Experience in following drawings
• To be able to work on own initiative and as part of a team • Continuous improvement of standards in work station & overall Welding department
• Ensure PPE compliance • Adhere to health & safety procedures to ensure compliance
• Attend training as required • Ensure quality standards are maintained at all times & highlight defects
• Prioritise multiple tasks while working to tight schedules The Person: • Upon employment candidates must undergo and pass weld tests
. • To date welder qualification certificate in TIG/MIG
• Full Irish driving license
• Safe-Pass and Manual Handling essential.