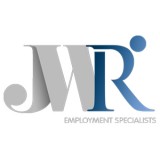 JWR Recruitment Specialists
At JWR, we are not your traditional recruitment firm, we are a boutique agency founded and run by industry professionals.   We have over 25 years' hands on experience hiring in the past for our own teams.  Focusing on the niche markets of Finance, Sales & Marketing and IT, this is where our experience lies and we understand the stresses and strains of getting the right people for the right job!
We pride ourselves in adding a personal touch to all job placements by taking the time to meet all our clients to understand their business, listen carefully to them and ensure we walk away knowing the type of candidate they are looking for, this way we can identify candidates that have the necessary requirements but most importantly fit in with the culture of the client company.
We are an extension of your own recruitment department and pride ourselves in offering a professional touch to build strong personal relationships.
Equally at JWR we ensure that the candidates experience is a positive one, ensuring open communication is top of our priority.  We have all been job seekers at some time in our lives and know only too well how nerve wrecking the interviewing process can be.
3 Robe Enterprise Centre, Kilmaine Road, Ballinrobe, Co Mayo
Open positions